Snow-Covered in Charming Badrinath-Kedarnath High Altitude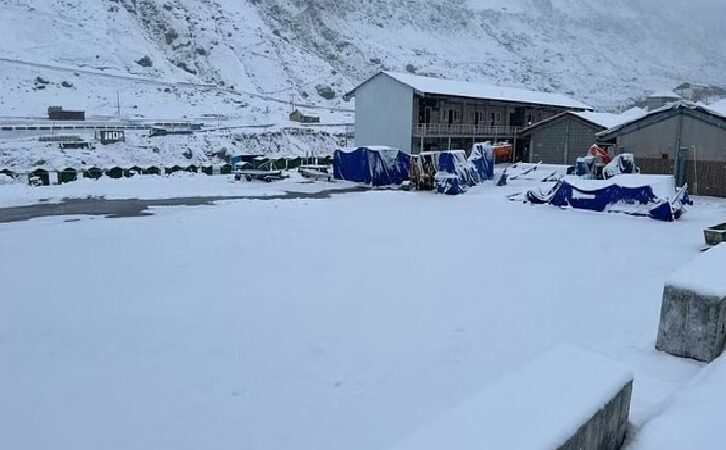 Rishikesh : Amidst a state of alert regarding the weather, Uttarakhand's conditions have deteriorated with snowfall in high-altitude areas such as Badri-Kedar and Hemkund Sahib. Lower areas have also seen rainfall, with temperatures dropping and the return of a cold atmosphere. Notably, Kedarnath has experienced sporadic snowfall, resulting in the accumulation of four additional inches of snow.
Praveen Karnapwal, Executive Engineer of the District Disaster Management Authority, reports that ice removal work from Rambada to Kedarnath, along the walking route, has been concluded. The next step involves removing snow in Kedarpuri, but the resumption of snowfall complicates the task. If the weather remains favorable, however, all the necessary work will be completed by the end of the month, paving the way for reconstruction to begin in the first week of April.
Despite the snowfall, Kedarnath remains unscathed, with all the reconstruction work and cottages safe. A group of three people, including the CEO of the Sribdarinath-Kedarnath Temple Committee, has been present in Dham for two days. Unfortunately, their inspection of assets has been hampered by the inclement weather.
According to BKTC CEO Yogendra Singh, all properties, from the temple premises to other locations, have remained unharmed. The discourse hall and Iglo Huts area have roughly two feet of snow, while work to be done for the upcoming visit to Kedarnath has been marked.
As the opening of the kapat nears, decisions are being made on where to install signage and display boards in the Dham. Additionally, the internal walking routes in Kedarpuri will be repaired ahead of the journey.